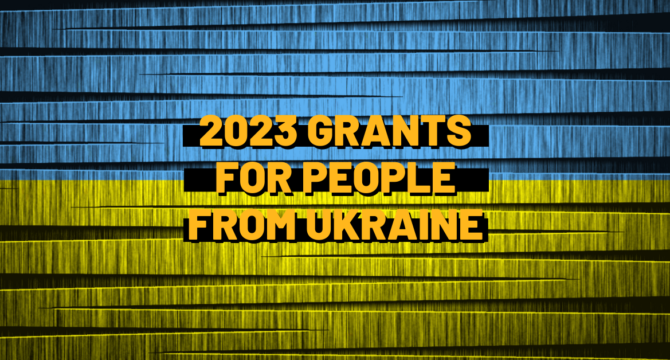 14.02.2023
Grants for people from Ukraine – support in 2023
February 24, 2023 will mark one year since the outbreak of war in Ukraine. Poland is one of the countries to which many Ukrainian citizens took refuge in 2022. Then, in an effort to help, many associations, universities and local governments decided to open various grant programs designed to support refugees. What grants for people from Ukraine are available in 2023? You will find out in the following article.
Artykuł dostępny jest także w języku polskim.
This article, as well as our websites en.mojestypendium.pl (in English) and mojestypendium.pl (in Polish) will be regularly updated.
Maintenance grants for foreigners
First of all, grants had already been provided in Poland to foreigners before the outbreak of war in Ukraine. Foreign students can apply for the rector's grant, grants for people with disabilities and aid reliefs.
Please also remember that in February 2022 the Ministry of Education and Science issued a guide for students and researchers coming from Ukraine, published in Polish and Ukrainian. It includes the following provision:
If you have refugee status, enjoy temporary or complementary protection on the territory of the Republic of Poland, have a Pole's Card, are a spouse, ascendant or descendant of a citizen of the Republic of Poland living on the territory of the Republic of Poland, you are exempt from tuition fees for intramural studies in Polish at public universities supervised by the Minister of Education and Science.
Grant programs for people from Ukraine
In the following section, we present grant programs for people from Ukraine. We will be updating the article on a current basis.
Future of Ukraine Fellowships
To address the humanitarian crisis stemming from the Russian invasion of Ukraine, Visegrad Insight, Res Publica Foundation will use all of its proceeds from subscriptions to our website to establish three paid, full-time editorial positions as part of the Future of Ukraine Fellowship for a six-month period.
The Foundation is looking for:
Public opinion leaders from Ukraine with a background in policy analysis, journalism, civil society engagement or academia
A proven track record of writing, analysis or as a civil society practitioner at the regional, national or international level, in a think tank, at a university, or in public and private sectors
A desire and availability to engage with the Visegrad Insight network and audiences through our regular online chats and events
A commitment to producing five or more high-quality articles which will generate public opinion impact in the national sphere, international press and social media
The offer:
A six-month, fully-paid position as a member of the Visegrad Insight team
Access to the Visegrad Insight network of media and journalists as well as in-house support
Publication and promotion of articles to a regional and international audience
How to apply:
Prepare a motivation letter, a short bio and provide a writing sample (article, report, op-ed). Submit the above to editor@visegradinsight.eu before 31 March 2023.
More information at: visegradinsight.eu/future-of-ukraine-fellowship/
The Prof. Franciszek Ziejka Scholarship Fund
The Fund's aim is to support international students and high school graduates who cannot continue education in their home countries – due to the political situation there – and want to enrol in a programme of study conducted in Polish at the Jagiellonian University.
Foreign candidates may apply for the scholarship if they meet the following requirements:
They have passed the school-leaving exam (the equivalent of the Polish matura) no more than three years earlier; or have already graduated their Bachelor's/Master's degree programme, or its equivalent entitling to study in Poland; or currently are the last year's students at the Bachelor's/Master's programme abroad; and are not 26 years old yet;
Have outstanding achievements or school grades;
Have a refugee status granted by the Republic of Poland or are being under temporary protection, or subsidiary protection, on Polish territory,
They also must not have studied at any Polish higher education institution before.
More information at: stypendia.uj.edu.pl
Application deadline is March 8, 2023
Scholarship Programme of the Government of Poland for Young Scientists – 21st edition
The Scholarship Programme for Young Scientists was initiated in 2003. It is addressed to candidates from: Belarus, Ukraine, Moldova, Kazakhstan, Kyrgyzstan, Tajikistan, Turkmenistan, Uzbekistan, and Armenia, Azerbaijan and Georgia. The 21st edition of the Program will be implemented in the 2023/2024 academic year.
The scholarships will be designed for a research stay at Polish universities from September 2023 to June 2024. The scholarships are granted for the implementation of a research project as part of a research placement.
Preference is given to candidates who can already demonstrate some scientific achievements and/or organizational activity and whose past activity offers the greatest opportunity to use the specialization gained in Poland in various fields of scientific life and social activities in their countries.
The total duration of the placement and the language course is 10 months.
A complete set of documents should be sent to stypendia.studium@uw.edu.pl by March 1, 2023.
More information at: www.studium.uw.edu.pl
Lane Kirkland Scholarships for the 2023/2024 academic year
The Lane Kirkland Scholarship Program has supported the personal development of young, ambitious and active citizens of Eastern Europe, South Caucasus and Central Asia for 23 years. The Polish-American Freedom Foundation is the author and sponsor of the Program. The Program is also financially supported by the Polish National Agency for Academic Exchange (NAWA).
The Program offer includes two study semesters at one of the four Polish academic centers (Warsaw, Kraków, Wrocław, Lublin). It's also at least a two-week vocational placement at state, private or non-governmental institutions and an extensive training and workshop program.
The Program is addressed to university-educated young leaders and experts interested in developing democracy, market economy and civil society in their countries and the region.
The application deadline is March 1, 2023.
More information at: www.mojestypendium.pl/stypendia-im-lanea-kirklanda
Artistic residencies for people from Ukraine
The following section of the article contains information on supporting artists coming from Ukraine through calls for artist residencies.
Kraków: Artistic and Translation Residencies of the Institute of Literature
The Institute of Literature, with the support of the Ministry of Culture and National Heritage, announces, for a second time, a literary residency program for authors and translators from Ukraine. The organizer invites to spend from three to eleven creative months in the care of the Institute of Literature in Kraków. Continuous recruitment has been announced until further notice.
The recruitment is addressed to authors who:
have Ukrainian citizenship or the status of a resident of Ukraine (without excluding people who at the same time hold their Pole's Card);
will present an interesting literary/translation project;
have at least one book published to their name.
An additional advantage will be the ability to communicate in Polish and/or another foreign language, especially English, Spanish or any of the languages of Central and Eastern European countries.
Details of the date and duration of stay will be arranged individually with residents.
More information available at: www. instytutliteratury.eu
Follow-up
We will monitor and update the article on support for people from Ukraine on an ongoing basis. Therefore, if you know of any other programs that involve refugees from Ukraine, be sure to let us know about them by email to: serwis@mojestypendium.pl.