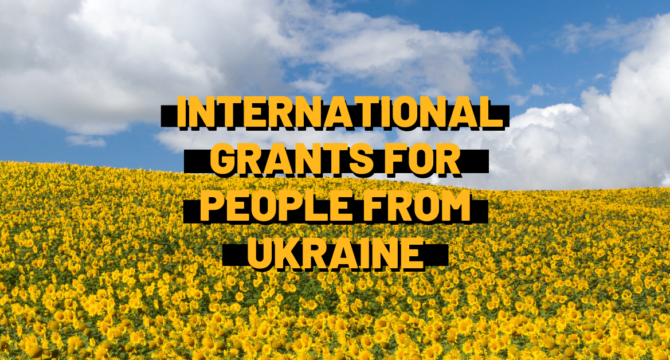 20.02.2023
International grants for people from Ukraine – support in 2023
February 24, 2023 will mark one year since the outbreak of war in Ukraine. As part of the effort to help people fleeing Ukraine, various non-profit organisations, universities and local governments decided to open emergency funds and scholarship programs dedicated to this group. If you are looking for scholarships currently available for people from Ukraine in Poland, check out our article Grants for people from Ukraine – support in 2023 (also available in Ukrainian and Polish). Here you will find international scholarships and grants available for people from Ukraine in 2023.
Artykuł dostępny jest także w języku polskim. Ця стаття також доступна українською мовою.
This article, as well as our websites en.mojestypendium.pl (in English) and mojestypendium.pl (in Polish) will be regularly updated.
Where to look for scholarships? Useful resources
In this article we have managed to compile only a part of currently available programmes. Below you'll find a list of other websites which collect information on support programmes and resources for students, scholars, researchers and artists from Ukraine:
---
Scholarships and grants in Europe
The New Europe College Bucharest & the Centre for Advanced Study Sofia: Sustaining Ukrainian Scholarship
The New Europe College (NEC Bucharest) and the Centre for Advanced Study (CAS Sofia) announce a Call for Applications for their joint programme to support scholars from the regions affected by Russia's war against Ukraine. The programme is aimed at qualified researchers (post-doctoral level) in the humanities and the social sciences, including law and economics, who intend to pursue a project of their own choosing. The selected applicants will have the opportunity to spend an extended period (ideally one or two semesters, between October 2023 and July 2024) as Fellows, resident in either Bucharest or Sofia, where they will enjoy all the benefits associated with a fellowship (stipend, accommodation, academic and administrative assistance, integration into international academic networks). By agreement, financial support can also be granted to researchers who are not in residence for the full period and who want or need to continue their work in Ukraine.
The deadline for submitting applications is 15 June 2023.
More information: cas.bg
Academy of Finland: call for inviting researchers from Ukraine to Finland 2023
The purpose of this  call is to support researchers who are prevented from working in Ukraine because of the consequences of the Russian attack in 2022. The funding covers the researcher's mobility costs (necessary travel and living expenses) for research to be carried out in Finland. Funding for the actual research work must be obtained from other sources.
Conditions of the scholarship:
applicant is a researcher from Finland;
applied for to invite a researcher from Ukraine to Finland; invitee may still be in Ukraine or may have fled Ukraine because of the Russian invasion;
funding covers a visit of no more than 24 months;
indicative size: €43,500/year for individual researcher, €57,000/year for researcher with family.
Call closes: 28 Feb 2023 at 16:15 Finnish time
More information: www.aka.fi
DAAD: Master's scholarships for students from Ukraine as well as students from DAC member states fleeing the war in Ukraine
The programme is open for very well qualified graduates from Ukraine as well as for graduates from countries of the DAC list who started their Master studies in Ukraine, hence had a student status at a recognised Ukrainian higher education institution in February 2022 and fled because of the war (proof of matriculation). It is also open to graduates who worked in Ukraine in February 2022 (proof of work) and fled the war.
Scholarships are awarded only for selected Master's courses within the programme "Development Related Postgraduate Courses". The list of the available and selected Master's courses can be found here. Scholarship support is currently monthly 861 € (planned to be increased to 934 € in 2023).
Application deadline: 30 March 2023.
More information: static.daad.de
Belgian Science Policy Office: postdoctoral fellowships for Ukrainian researchers
The Belgian Science Policy Office has launched an initiative aiming at offering postdoctoral research stays (of maximum 12 months) in Belgian Federal Scientific Institutions to Ukrainian researchers.
Only applications that are fully filled AND signed will be taken into account. These applications will only be reviewed and assessed by the Federal Scientific Institutions that are selected by the researcher. The researcher will be notified by e-mail of the eligibility of her/his application under 48 hours. The assessment of the application is performed by the scientific institution selected by the researcher.
There is no age limit to apply for a postdoc fellowship. Applications can be introduced continuously, as long as the number of 24 Postdoc Fellowships is not reached. On January 6th, 2023 the number of postdoc fellowships that can still be granted is 24.
More information: belspo.be
---
Scholarships and grants outside of Europe
University of Toronto: Summer Program for Students from Ukraine
For the second year in a row, we are offering our summer research program in computer science for students from Ukraine. The program will run from May to August 2023 and will accept senior undergraduate students (year 3 or higher) and graduate students (MSc or PhD) from Ukrainian universities whose studies were affected by the Russian invasion and war in Ukraine. The program will take place at the University of Toronto. The program is intended for students who are enrolled in the current academic year (Fall 2022/Spring 2023) in computer science or a similar degree program at their home university in Ukraine. The summer program will cover all costs related to travel expenses, on-campus housing accommodation, and provide a research stipend. Citizens of all countries are eligible.
Duration: Four months (May 7 – August 25, 2023)
Applications will be reviewed on an ongoing basis. The final application submission deadline is February 28, 2023.
More information: web.cs.toronto.edu
The Kolasky Visiting Research Fellowship in the Humanities and Social Sciences, Law, Education, and Library Sciences 2023-2024
The Canadian Institute of Ukrainian Studies (CIUS) invites applications from scholars who are citizens of Ukraine and affiliated with universities or research institutions in Ukraine to carry out scholarly work as Kolasky Visiting Research Fellows at the institute.
The stipend is C$3,000 monthly. Duration of the scholarship: up to four months. Deadline: 1 March 2023. Applications and supporting documents must be submitted in English via the CIUS Awards Portal.
More information: cius-awards.artsrn.ualberta.ca
Celestin and Irena Suchowersky Graduate Fellowship In Sociology, Psychology, Economics, or Ukrainian Studies 2023-2024
This fellowship is offered to graduate students from the Bukovyna region of Ukraine (Chernivtsi oblast) to conduct research at a Canadian university in support of their studies in the disciplines of Sociology, Psychology, Economics, Medicine or other Health Sciences subjects, or Ukrainian Studies. The fellowship can be held for a period of two months to a maximum of three months. Fellowship holders receive C$2,500 per month, paid economy airfare to and from Canada, and traveler's medical insurance. To qualify, applicants must be from the Bukovyna region of Ukraine and enrolled in a Master's or PhD (or Candidate of Sciences) graduate program in Ukraine.
Deadline: 7 April 2023
More information: cius-awards.artsrn.ualberta.ca
Fonds de recherche du Québec: financial support for Ukrainian and Russian researchers
The purpose of this program is to offer research opportunities in Quebec to researchers of Ukrainian or Russian nationality. Thus, researchers working in a Quebec institution could host a visiting researcher from these two countries (a person with a professor status could also be eligible if the projected teaching task does not exceed 25% of the task). In collaboration with the universities and a host researcher, the Fonds de recherche du Québec (FRQ) proposes to offer financial support for a maximum of 36 months to researchers affected by the current conflict.
Duration: 2 years, renewable for 1 year under certain conditions;
Amount: 65 000$ per year;
Contest deadline: ongoing.
More information: frq.gouv.qc.ca
---
 If you have heard about any other scholarships, fellowships, support programs for refugees or useful websites – contact us and we will surely add them to the list.