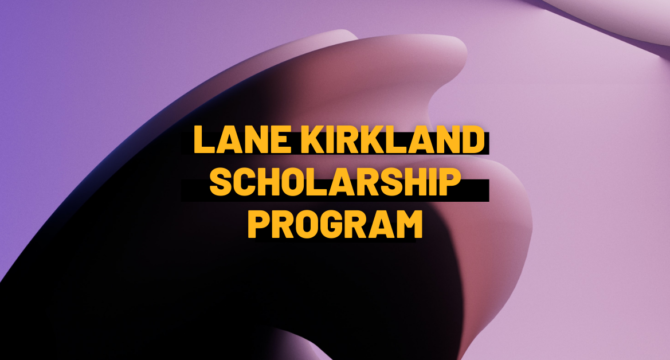 15.02.2022
The Lane Kirkland Scholarship Program
For over 20 years now, the Lane Kirkland Scholarship Program has been supporting individual development of young, ambitious and active citizens of selected states in Eastern Europe, South Caucasus and Central Asia. The goal of the Program is to share the Polish experience of political transformation and integration with the European Union. The group of over 900 alumni of the Program includes members of governments, MPs, managerial staff of large multinationals, heads of local authorities and well-known social activists.
The Program offers scholarships for two-term university training courses on Polish universities. Eligible candidates are young leaders and experts with higher education coming from the following 11 countries: Armenia, Azerbaijan, Belarus, Georgia, Kazakhstan, Kyrgyz Republic, Moldova, Russia, Tajikistan, Ukraine and Uzbekistan who are interested in fostering democracy, economy and civic society in their home countries and in the region. Application deadline is March 1, 2022.
The Program offers 2 terms of studies on Polish universities as well as 2-week internships in state or private institutions. Potential candidates are persons who have resolved that following the completion of the scholarship, they want to return to their home country in order to implement the knowledge gained during the scholarship or a project prepared as part of it.
Financial information:
Free access to university classes and support of academic advisor
A scholarship of PLN 18,000 (paid in 9 installments for 9 month
In addition, the Program administrator provides the following (worth approx. 4 200 PLN/month):
accommodation during the whole stay in Poland,
health insurance for medical outpatient care, treatment costs in case of emergency and civil liability
insurance,
one return ticket to Poland (up to agreed amount),
public transportation cards,
visa costs,
research materials,
participation in the introductory course, and grantees conventions,
polish language course (October-May).
The Kirkland scholarships are addressed to individuals who represent the following professional groups:
civil servants, employees of central and local government institutions
lawyers
entrepreneurs
managers in business, NGOs, culture, education, environmental protection, healthcare
leaders of non-governmental organizations, animators in culture and civic activity
academic teachers
journalists
For more information on The Lane Kirkland Scholarship Program please visit kirkland.edu.pl.
Good luck! And if you know more programs for foreigners in Poland or seek other articles and guides – please, let us know!