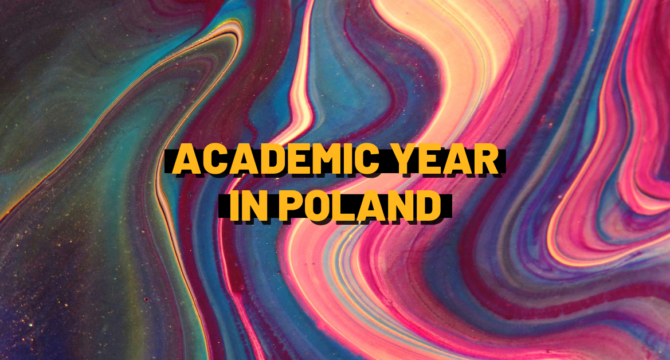 12.08.2023
Academic year in Poland
If you are considering studying in Poland, it might be helpful to learn about the structure of the academic year. While there are some differences between individual universities, in this article you will find basic information about the academic year in Poland.
How long is academic year in Poland?
The academic year in Poland is divided into two semesters:
winter semester, which lasts from October to January/February;
and summer semester, lasting from February to June/July.
In between the two semesters, there's usually a week-long semester break. Additional holiday breaks include winter holidays in December, spring holidays which usually take place in April, as well as the longest, 3-month summer holidays between July and October.
Moreover, the students in Poland enjoy the traditional student's holiday Juwenalia in May. During Juwenalia, there are no classes and filled with concerts and other events. We have written more about student culture in Poland in our recent article.
Most unviersities publish their academic calendar for a given year on their website. For example, here you can see the academic calendar 2022/2023 for the University of Warsaw. The academic calendar includes all the important dates relating to your study, including holiday breaks and exam sessions.
What does exam session look like at universities in Poland?
First of all, there are two exam sessions – one after the winter semester, and one after the summer semester. If you failed any exams, you might take them again during resit examination sessions. The resit for winter semester usually is scheduled in February/March, while one for the summer semester takes place in August/September.
Worth noting is also that usually the language exam sessions (that is, foreign language tests) in Polish universities take place after the exam session proper.
While every university has its own system, usually the exam format differs depending on whether it is for a lecture or a workshop. Lectures usually end with a written or oral exam, comprising of the material from the entire semester. To pass a workshop, you usually need to write a term paper and/or pass an exam; you might also need to prepare additional material throughout the semester (such as a presentation, a short paper, a pop quiz, etc.).
Find more information on studying in Poland!
If you are curious about studying in Poland, on our website you will find articles on:
Make sure to browse our articles, and don't hesitate to contact us if you have any questions. If you are a representative of an educational institution or a non-profit organization working with youth, we are inviting you to look at our cooperation offer.