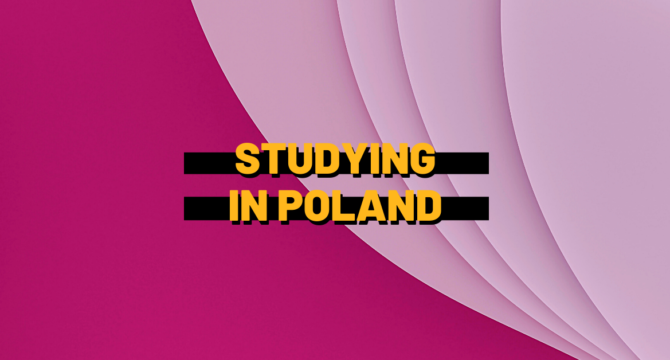 28.02.2023
Studying in Poland: formalities
Applying for studies abroad always involves quite a bit of paperwork. Translating documents, finding the right health insurance, getting a visa… it can be a handful! If you are thinking of studying in Poland but you are not sure what kind of formalities you'll need to deal with, perhaps this article can be helpful for you.
We have collected information on most common issues foreign students face. These include documents you need to gather before you even apply to a univeristy, student visas, legalization of stay, as well as some information on scholarships and tuition fees. We have also compiled a list of trusted sources where you'll be able to find more information.
If you are from Ukraine, be sure to check out our article Напрямок: Польща — для кандидатів з України / Direction: Poland — for students from Ukraine (in Ukrainian and Polish) by Danylo Solovei. In it, you will find a detailed explanation what studying and living in Poland is like, with a focus on students coming from Ukraine.
Moreover, on our portal you will find information on student scholarships for foreigners in Poland, higher education system in Poland, as well as short guides on how to learn Polish and where to study in Poland.
Studying in Poland: things to do before you apply
Most application processes to Polish universities take place online. In the first step, you will most probably need to upload scanned copies of the required documents. Thus, check the list of required documents carefully and prepare them in advance. If you don't have cetrain documents yet (for example, you are waiting for your diploma), there should be an instruction what to do in such situation.
You will probably need to get a sworn translation of your documents – either into Polish or English. This usually depends on the language of your study programme. If you are already living in Poland, a handy tool in searching for a translator is a search engine of sworn translators at the website of Ministry of Justice.
Moreover, depending on which country you got your prior education in, you might be required to legalize your diploma. You can read more about it on the University of Warsaw's website. In some other cases, you might have to obtain a certificate of recognition (nostrification) of your diploma.
In addition, keep in mind that you might be required to show for an in-person interview or exam as a second step. This depends on the university and programme of your choice.
To sum up, before you apply for your studies make sure to carefully check the list of required documents and application steps. If you are not sure about a step or a required document, you can always call/e-mail and get more information from the university. We recommend to do this as soon as possible to avoid last-minute document chasing – although we know that sometimes life happens 😉
Visas
If you are a citizen of an EU member state, you only need your national ID or passport to enter Poland and you won't need to obtain a visa. However, if you are staying in Poland for longer than three months you will need to register your residence. You'll find more information on this in the subsection below.
If you are a citizen of a non-EU country, you typically will need a Schengen or national visa to enter Poland. However, foreigners from certain countries are exempt from visa requirement if they plan to stay in a Schengen country for less than 90 days. Here you can find information on which countries' nationals need a visa to enter an EU country.
Usually, when entering Poland you will need to obtain either a C-type visa (valid for the Schengen area) or a D-type national visa (valid for Poland). You can find more information on types of visas on the Ministry of Foreign Affairs website.
Legalization/registration of stay
For non-EU students
Every non-EU student needs to obtain a Temporary Residence Permit in order to legalize their stay in Poland. It is essential that you should apply for the permit before your last day of legal stay in Poland (for example, before your visa expires). Applying for a Temporary Residence Permit happens in person, at the local Voivodship Office. You will need to fill out an application form and prepare documents such as a statement from your univeristy confirming that you are a student, proof of health insurance and sufficient funds. Application costs 340 PLN at the time of submission of the application and 50 PLN for the residence card once you receive the decision.
The first temporary residence permit for the purpose of study at university is usually granted for 15 months or 2 years. This depends on the programme and its financing. It is worth noting that this permit is not automatically renewed. Thus, you'll have to apply again before your permit expires. The second permit is granted for the duration of studies, extended by 3 months. However, it can't be granted for longer than 3 years.
You can find more information on the rules and regulations regarfin the permit on the Office For Foreigners' website.
For EU students
EU students don't need to apply for temporary residence permits. Instead, you need to apply for the registration of residence. The application takes place in person, at the local Voivodeship Office. You should submit it no later than 3 months after you entered Poland. Apart from filling out the application form, you will need to prepare documents such as a statement from your univeristy confirming that you are a student, proof of health insurance and sufficient funds.
Applying for residence registration is free of charge, and the certificate is also free of charge. Moreover, this certificate is valid for an indefinite period of time.
You can find more information on the Ministry of the Interior and Administration's website.
Tuition fees and scholarships
Tuition fees depend on a chosen university, programme and type of studies (full-time or part-time). Foreign students who study full-time at a public university and start their studies on the same terms as Polish citizens typically don't pay tuition fees. However, there are some exceptions as some programmes at public universities (often English-language programmes) require all students to pay tuition fees. Private universities usually charge tuition fees. These can vary from 2000 euros per year up to 12 000 euros per year. MBA programmes usually have the highest tuition fees.
On our website you can find information on available scholarships for foreigners in Poland. We divided it into three articles, depending on the target group:
In addition to these programmes, your university might offer additional, internal scholarhips for its students. Moreover, if you are at the top of your class, you might receive a Rector's Scholarship. These are offered by every public univeristy for the best achieving students.
Useful links