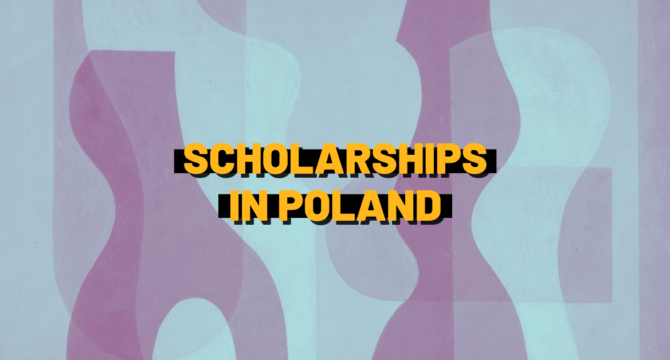 26.05.2023
How to find a scholarship in Poland?
Are you thinking of studying in Poland? Or perhaps you'd like to do your PhD here, come for an artists residency or conduct short-term research? You can find a scholarship in Poland for any of these endeavours, and more.
However, we know that looking for scholarships can be a time-consuming and, at times, a confusing process. We hope this guide on how to find a scholarship in Poland will be helpful for you!
Scholarships for foreigners in Poland – where to find them?
A good place to start is… this very website. We have compiled lists of scholarship programmes that offer support to people who would like to live, study and work in Poland:
Other websites that are worth checking out are Polish National Agency for Academic Exchange (NAWA), that runs a few scholarship programmes for foreigners, as well as Ready, study go! Poland website, which, in addition to information on scholarships also has practical tips on planning your studies and moving to Poland.
If you already have a University in mind, it might be useful to contact them directly. Some universities offer their own scholarships, or might offer tips on where to look for local programmes. If you are thinking of a short-term visit or an academic exchange, they might also have bilateral agreements with universities in your country.
Last but not least, make sure to check out scholarships that are available in your country – perhaps there are some governmental, local or non-profit programmes supporting education and research abroad.
Collecting all the necessary documents
It's a good idea to carefully read the list of necessary documents before applying. If you have any questions (and couldn't find answers on the programme's website), it's best to contact the organizers directly. They should be able to explain any concerns you might have.
We definitely recommend preparing all the necessary documents as soon as possible, applying at least a few days in advance, if possible. In that case, if it turns out that you are missing a document or need to amend one you already have, you will still have time to prepare them.
If you are already studying in Poland and are looking for guidance in terms of legalizing your stay, make sure to check our article Studying in Poland: formalities. There, you will find tips and useful links that provide more information on the process.
Living in Poland
Moving to a foreign country is always a challenge – even if you have prepared in advance and speak the language.
It is worth checking if the university/institution you'll be affiliated with has a buddy system. A buddy is someone local who will help you get the hang of the city and settle in. They might also provide support in dealing with administrative issues. Sometimes, local non-profit organizations or international student networks have similar programmes in place, so it's best to look widely.
We have also a number of articles that offer guidance on issues you might encounter – such as deciding on where to study, getting involved in local organizations and learning Polish. We hope they will be useful to you!
What if you didn't get the scholarship?
We know that it can feel defeating if you put a lot of effort into you application and didn't get the scholarship. However, remember that just because you weren't chosen doesn't mean that your application wasn't good! Scholarship organizations usually receive thousands of applications and the choice is usually very difficult – sometimes, the smallest details can make a big difference.
It is worth to use this situation as a learning experience. While few organizations offer feedback on applications, if you have that opportunity, we strongly recommend to use it. Even if you don't receive feedback on your application, you can check who got the scholarship this year and take extra time to polish your application for the next time you apply.
We hope that these tips were useful to you and we keep our fingers crossed for your successful applications! 🙂