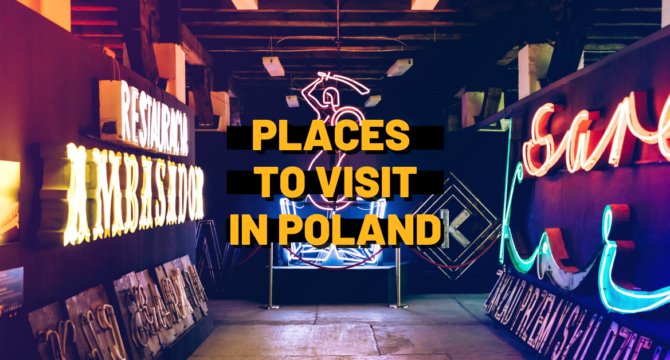 31.03.2023
Places to visit in Poland
If you are an international student in Poland – or are planning to study here – it's worth to take some time to explore the country. Poland has many interesting places to visit, starting from well known ones, such as the country's UNESCO heritage sites, to hidden gems like 2023 European Tree of the Year, a giant abandoned strawberry or a pinball museum.
In this article you will find a subjective list of places to visit in Poland, compiled by our team, as well as links to interesting sites with travel inspiration. We hope that everyone, no matter their interests, hobbies and preferences, will find something for themselves!
Moreover, make sure to check out our other articles: on exploring Polish culture, tips where to study in Poland and how to learn Polish, as well as a list of scholarships for students.
Culture & science
Emigration Museum in Gdynia
The Emigration Museum in Gdynia, opened in 2015, houses a permanent exhibition showcasing 200 years of Polish emigration – from 19th century to the present day. What's interesting is that it's located in the former Maritime Station. This station was a transit building from which thousands of Polish emigrants left for their new homelands between the 1930s to 1979. The museum also hosts temporary exhibitions, such as contemporary art related to the topic of migration or family exhibitions.
Silesian Museum
The Silesian Museum is a regional museum showing the Silesia region: its rich, multicultiral history, its industrial past as well as its intellectual and artistic heritage. It showcases Polish art, including Silesian religious art and non-professional art. It also houses a permament exhibition on the history of the region. Moreover, the museum is located in a former coal mine, with the exhibitions being places 14 meters below the ground level.
MOCAK Museum of Contemporary Art in Krakow
MOCAK Museum of Contemporary Art in Krakow is one of the most famous contemporary art museums in Poland. Similar to the museums below, it is also housed in an unusual place – on a demolished part of the factory of Oskar Schindler. It presents a variety of exhibitions, showcasing contemporary art – both Polish and international.
Copernicus Science Centre
And finally, something for all the science lovers. The Copernicus Science Centre in Warsaw is a science museum located by the Vistula River. It contains over 400 interactive exhibits, construction challenges and workshops that allow visitors to carry out experiments and discover the laws of science in practice. The Centre also includes a Planetarium in which you can see diverse shows, films, and even concerts.
Nature
Pieniny National Park
Pieniny National Park, located in the Dunajec river basin, is the second-smallest national park in Poland. Despite its mall size, it houses a myriad of diverse plants, mushrooms and animals. The park's meadows are some of the richest plant ecosystems of Poland, with 30 to 40 species of flowers for every square meter. As for animals, there are an estimated 6 500 to even 15 000 species living there, including lynx as the main predator. One of the most popular activities is a river trip on wooden flisacka rafts.
Białowieża Forest
Białowieża Forest, located on the Polish-Belarussian border, is one of the last and largest remaining parts of the primeval forest in Europe. It stretches over 3 000 square kilometres. You can go birdwatching there with experienced ornithologist (if you are lucky you might spot a pygmy owl!), or observe European bison in their natural environment. Importantly, the forest is also a UNESCO Heritage site.
Moving sand dunes in Łeba
The Łeba sand dunes are the only moving sand dunes in Poland. This means that they move with the wind. Although they won't move right in front of your eyes, with with an average speed of several metres per year, if you look closely you can notice the process of the wind moving the grains of sand. What is more, these dunes can be quite impressive, as they are up to 30 metres high!
Architecture
Wrocław's Gnomes (or Dwarves)
The first gnome figurines appeared on the streets of Wrocław in 2005. They started of as a commemoration of the Orange Alternative (Polish anti-communist movement). However, their numbers quickly grew and now they are one of the city's main tourist attraction, with over 400 figurines hidden among the city streets. They drink coffee, ride pidgeons, do laundry and even recycle. There's also a Dwarf Symphony Orchestra!
The Lindley Filters in Warsaw
The Lindley Filters are a unique, hidden architectural gem in Warsaw. These 19th century waterworks still serve their original purpose – they have been working for over 130 years! If you want to visit the filters, you have to be prepared to hunt for tickets. This is because they only allow visits on certain Saturdays in July and August, as well as during the Warsaw's Museum Night.
Szczecin Philharmonic
The Szczecin Philharmonic building is one that you either love or hate. The idea was to build a new hall for the Philharmonic in the place where the old Concert Hall (Konzerthaus) used to be located in Szczecin. However, the project was not merely a copy of the old Concert Hall, but a modern take on it. While the white, ice-like building stands out from the neo-gothic architecture around it, it also forms a coherent whole with it. Worth noting is that the project won the first prize in the Eurobuild Awards 2014 contest as Architectural Design of the Year. And while you're there, make sure to go to one of the concerts and see the impressive interiors!
Where to look for travel inspiration & guides
PS: The place in the cover photo – Neon Museum in Warsaw – didn't make it to the list, but we still highly recommend to visit it if vintage neon signs are your thing!