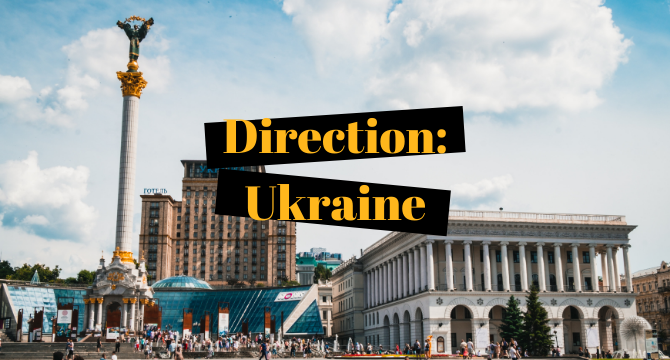 23.11.2021
Direction: Ukraine
In this article from the series Direction: the world, we will tell you what studying in Ukraine is like and what the specifics are. We point out the similarities in education in relation to European countries, the cost of studying and living, the most popular majors.
Study in Ukraine
Each central regional city receives from several hundred to several thousand foreign students. The most popular universities include V. N. Karazin Kharkiv National University, Kharkiv National Medical University, and Bohomolets National Medical University in Kyiv. Ukrainian universities tempt future students with offers of technical and medical faculties. Eight of the ten most popular universities among foreigners are medical schools. For years, medical studies in Ukraine have attracted several thousand foreign students every year.
The COVID-19 pandemic in the academic year (2020/21) had almost no impact on the willingness of foreign high school graduates to study across our eastern border. Their number was over 76 thousand. For comparison, the current number of foreign students in Poland is 84.7 thousand. Ukraine is therefore a popular destination for international students.
Higher education system
There are currently 394 universities in Ukraine, both public and private, which educate future professionals with foreign citizenship. Where do they come from? Among the most popular countries are India, Morocco, Turkmenistan, and Azerbaijan (4628). The number of students from Western European countries does not exceed 20 000 applicants.
The higher education system is organised in a three-tier model:
unlike in Poland, a bachelor's degree lasts four years,
Master's degree — 2 years,
whereas doctoral studies are four years long.
It is also worth noting that medical studies in Ukraine — the most popular choice among foreigners — are conducted in a unified model and last 6 years. After graduation, the graduate must complete an internship at a medical institution.
Recruitment for studies in Ukraine
Over the last few years, Ukrainian public institutions have been trying to increase their online presence. One example is the government-funded web portals, such as studyinukraine.gov.ua. The portal aims to popularise studying in Ukraine and inform potential candidates about this opportunity. Higher education institutions recruit students via the website. The procedure does not differ from standard recruitment and consists of:
Choose your major, degree, and language (Ukrainian, Russian, English, French,  and German).
Fill in the forms and attach the necessary documents (scan of passport/ID card, diploma, or academic certificate).
Submission of visa documents.
How to apply for a visa?
The visa application process mirrors the application rules in European Union countries. In order to study, it is necessary to have a category D visa. A national visa type "D" entitles you to enter the territory of Ukraine and to a continuous stay or to several consecutive stays in this territory, which together last more than 90 days during the period of validity of the visa and no more than one year.
According to studyinukraine.gov.ua, the visa process takes 10 working days, sometimes it can take about a month. The enrolment fee is $200 and covers all steps of recruitment, the issuance of an invitation to study, and assistance to the candidate upon arrival in the country. This assistance includes airport pick-up, accommodation, and completion of basic documents.
How much does it cost to study in Ukraine?
According to Ukrainian law, free higher education is available only to citizens of the country. Foreign students must pay a fee for their studies. The cost of a study depends on the field of study chosen. The Ministry of Education of Ukraine annually publishes reports on the average expenses of international students. The amount is on average from 6 to 8,3 thousand dollars. It is safe to say that the cost of paying for studies alone can be up to half of this amount.
Knowledge of language
In order to study in the Ukrainian language, it is necessary to complete a so-called "zero year", during which candidates learn the language. The course must end with passing an exam and getting a certificate. However, this rarely happens, because studies in English are much more valued in the labour market by employers.
Speaking of foreign languages, students can study in 5 languages. Apart from Ukrainian, foreigners can study mostly in English. Studying in Ukraine in German or French is available only at a few universities in faculties related to international law.
International certificates such as IELTS or TOEFL must be included to prove foreign language skills. For graduates from former Soviet republics, an option to study in Russian is available.
If not university, then…?
There are currently no post-secondary schools with offers for foreigners. The immediate reason for this is that Ukraine is still among the developing countries. This means that the development indicators of the economy are significantly lower compared to countries with a similar socio-demographic structure. This is why Ukraine spends less on the development of education. Perhaps the situation will improve within 10-15 years.
Life, work, entertainment
In the case of Ukraine, state reports of average living expenses do not always coincide with reality. According to the Ministry of Education, the cost of renting a 1-bedroom flat is between $170 and $300, depending on the city and its district. In cities with a population higher than 500,000, the amount reaches around $350. The expenses for food and transport are comparable to those in Poland, while entertainment and services are about 20-30% cheaper. It is also worth noting that a foreign student does not have the right to work legally during his/her studies.
As a student in Ukraine, you can participate in conferences, including international ones. Students have the opportunity to present the results of their scientific research, and thus apply for a good internship or job.
Summary
Studying in Ukraine is an interesting experience, but so far it is not an alternative to European education. Popular medical studies may be an exception. However, it is worth considering a trip within the Erasmus+UA programme or a bilateral exchange between Polish and Ukrainian universities.
Useful links:
FAQs will answer the most common doubts about applying for a visa (page in English).
You can read more about recruitment on the dedicated page (English page).
We keep our fingers crossed for you!
Author of the article & photography: Danylo Solovei
Sources: studyinukraine.gov.ua and mon.gov.ua.